Innovation
Launch new products and software features that solve problems gamers face daily.

Introduce new usage models to help gamers improve their cross-platform experience.

Deliver new experiences that combine the wishes of gamers and game developers with the intent to deliver more immersive experiences.

 
High-Performance
Be the company that people rely on for brand new gaming technologies.

Push limits of overclocking, graphics performance and other properties while maintaining the highest quality standards.

Build gaming products with thermal properties that never compromise performance and maintain cool surface temperatures.

 
Iconic Design
Create sleek, beautiful  systems that inspire and embody premium gaming themes.  

Simplify human interaction including the upgrade process and port design.

 
Premium Quality
Deliver consumer experiences that foster reassurance and confidence in purchase decisions.

Define products with materials that preserve performance expectations throughout the duration of ownership.

Continue using materials in systems that deliver rigidity, comfort, and extended half life.

 
Create an image and caption that best captures an Alienware brand element and illustrates how that element is represented for you personally, in your gaming lifestyle.  
To enter your Image in the Contest, follow these steps
Post your Image on Instagram, Twitter or Alienware's Facebook page including the hashtag #IamAlienwareContest and your caption (140 characters or less).

You must watch one of three Alienware YouTube videos on the Contest entry page.

Upload your Image from Facebook, Twitter or Instagram to the Contest entry page.

Enter the caption (140 characters or less) for your Image to express the theme.
You must follow all of the below image requirements:
Include one or more of the following 4 Alienware brand elements: Innovation, High-Performance, Iconic Design and/or Premium Quality. 

Image post must include the hashtag #IamAlienwareContest

Image must include a short caption, that explains your selected brand element(s).  

The image must be your original work, but may include Alienware logos and assets which can be found here.
Example Image / Example Image: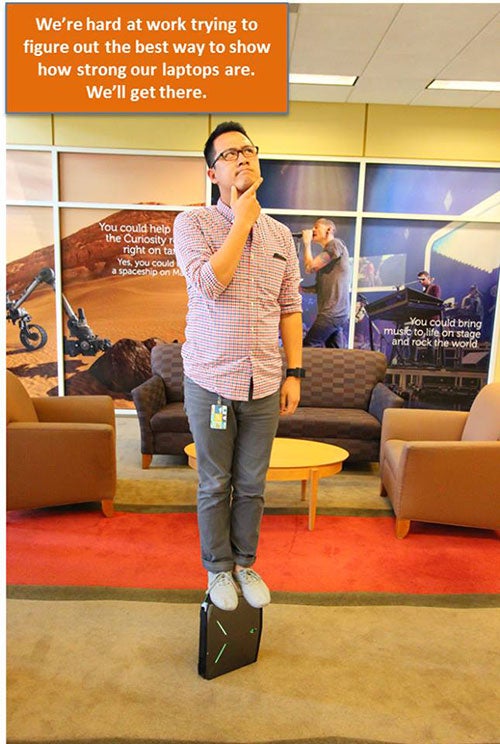 Caption:  #IamAlienwareContest because QUALITY is the reason I keep my laptop for years and years
Grand Prize
Prize Value: $2,958.95
Alienware 15 with GTX 1060 ($1,649.99)
Linksys Router WRT32X ($299.99)
Alienware Pro Keyboard ($119.99)
Alienware Elite Mouse ($89.99)
Alienware Vindicator Bag 15 ($99.99)
Alienware 25 Monitor - AW2518H ($699.00)
2nd Place
Prize Value: $1,709.95
Alienware 13 with GTX 1050 ($1,099.99)
Linksys Router WRT32X ($299.99)
Alienware Pro Keyboard ($119.99)
Alienware Elite Mouse ($89.99)
Alienware Vindicator Bag 15 ($99.99)
3rd Place
Prize Value: $1,008.97
Alienware 25 Monitor - AW2518H ($699.00)
Alienware Pro Keyboard ($119.99)
Alienware Elite Mouse ($89.99)
Alienware Vindicator Bag 15 ($99.99)
4th Place
Prize Value: $808.97
Alienware 25 Monitor - AW2518HF ($499.00)
Alienware Pro Keyboard ($119.99)
Alienware Elite Mouse($89.99)
Alienware Vindicator Bag 15 ($99.99)